Plastic Extrusion Profiles, Extruded Plastic Profiles
Plastic Extrusion Products

One-time-use plastic products are harming the environment but using plastic for long-lasting products is perfectly justified. Plastic is a boon for some industrial products. It is generally reasonably priced and is easy to fabricate. In order to create these products, plastic needs to go through a process called extrusion. It involves melting plastic, sculpting it into the shape of your choice, and solidifying it. For this process, one can only use thermoplastics.

Lih Kuang Plastic Industry Co., Ltd. is one of the few companies that offer custom plastic extrusion in high and low volumes. Some of the common thermoplastics used in this process are polythene (polyethylene), polystyrene, PVC, nylon, and polypropylene.

Here are a few plastic extrusion applications that we provide:
When it comes to industrial equipment, plastic can handle all kinds of liquids and gasses. Sewer pipes, external gutters, and micro-miniature medical tubes come under the hollow pipes and tubing section. Plastic tubes can be applied to sip soda from a can and also to transport oxygen to the ICU.
Thermoplastics have exceptional electrical insulation and thermal stability making them perfect for cable insulation and extruded wire. Electrical as well as non-electrical cables need to be corrosion resistant and abrasion resistant. The plastic extrusion also ensures the safe and smooth handling of wires.
Here, plastic can get extruded in different shapes like circles, squares, and rectangles. A few examples include fencing, outdoor furniture, and park benches. Using plastic extrusion helps in making these items weatherproof and splinter proof making it easy for those items to outlast any other item with a wooden exterior.

Automotive trims, windshield wipers, squeegee blades, and plastic rain gutters come under the long cross shapes that are extruded.
We provide multiple extrusion products like air tubes, soft hoses, and other hardware products.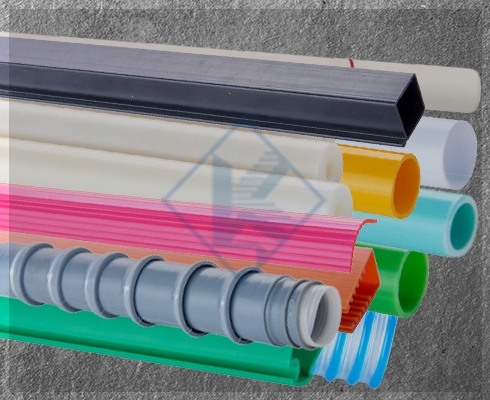 Extrusion Products
Lih Kuang provide pre-forming for our range of plastic tubes, which can help in eradicating the need for tube fittings, thus reducing costs. The extrusion process allows you to make design changes around function and appearance. You can also add colours and customize your plastic tubes however you want.
Our air tubes are abrasion resistant and have exceptional flexibility and coil shape retention, making them ideal for air-operated hand tools.
PVC hoses are commonly used to spread fluids and chemicals through irrigation lines. They are used as transfer hoses for powders, grains, gas, and fuel.
Category List
Applications
We extrude plastic to create products of a fixed cross-sectional profile that we can modify to meet customer requirements. So we can adapt the plastic into tools like:
An electrical wire puller is used in construction and electrical jobs to draw a wire through narrow spaces and reach distances too strenuous to access.
Road Work Safety Equipment
We manufacture essential road safety pieces of equipment such as traffic cones, traffic wands, soft tube warning lights, cone bars, etc., to ensure you remain safe on the roads.
Lih Kuang produce many hardware tools, such as toolboxes, PVC water inlet, outlet hose, drill vacuum, filler, etc., to help make your everyday routine much easier.
Category List